Somersworth (Dover), New Hampshire
Mark & Roseann Foster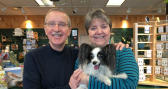 We're passionate about birds and nature. That's why we opened a Wild Birds Unlimited Nature Shop in our community.
Somersworth (Dover), New Hampshire
250 Indian Brook Drive
Somersworth (Dover), NH 03878
Phone: (603) 743-4928
Fax: (603) 743-5122
Email: Send Message
Store Hours:
Mon - Fri: 10:00 am - 6:00 pm
Sat: 10:00 am - 5:00 pm
Sun: 12:00 pm - 4:00 pm


Featured Products
We have an incredible selection of bird food, feeders, birdbaths, birdhouses, binoculars, scopes, garden accents, and of course - our Advanced Pole System!
Whether you're a beginner or an experienced hobbyist, our Backyard Birdfeeding Experts will help you select just the right item for you and your birds!
NEW! While you'e in, check out our new
"Quick-Clean"

seed tube and finch feeders. They make it simple to keep your feeders clean!
We also have new additions to our selection of
recycled feeders

. Made from recycled milk jugs, they're easy-to-clean, and won't warp, crack or split! Now available in a variety of shapes & sizes, including hopper feeders, fly-throughs and tray feeders!
Want to prevent squirrels from eating all your seed? Check out our best selling "Eliminator" Squirrel Proof Birdfeeder (shown below and in accompanying video).